Check out all of our specials
At our Tilt Studio locations, we offer numerous specials. Not all specials are available at every location. See the right-hand side to see where the specials are available. Make sure that you take advantage of all of our specials in your area. 
August Virtual REality
Special
This is a limited-time offer.
Get 3 Virtual Reality Game Plays for just $15!
*Offer available August 1-31, 2022. Not available for purchase at kiosks or on prior purchases. Can only buy one special per play card, per day. 
This is a limited-time offer. Don't miss out on this special offer to double your fun.
Get a $40 Play Card for just $20 from 5 p.m. until close, Monday through Thursday.
*Card special points expire at the close of business each night. Manned attractions may not be open during this time period.
*Tempe, AZ Available 7 p.m. to close, Rockford, IL Available 8 p.m. to close 
MEN AND WOMEN IN THE U.S. MILITARY, WE SALUTE YOU!
In honor of your dedicated service, Tilt Studio offers a 10% Military Discount off ALL Attractions and a 10% Military Discount off the purchase of ALL Tilt Studio Play Cards.
In order to receive your Military Discount, you must show your Military I.D. Card each time you visit Tilt Studio. This offer is not valid with any other discount or offer.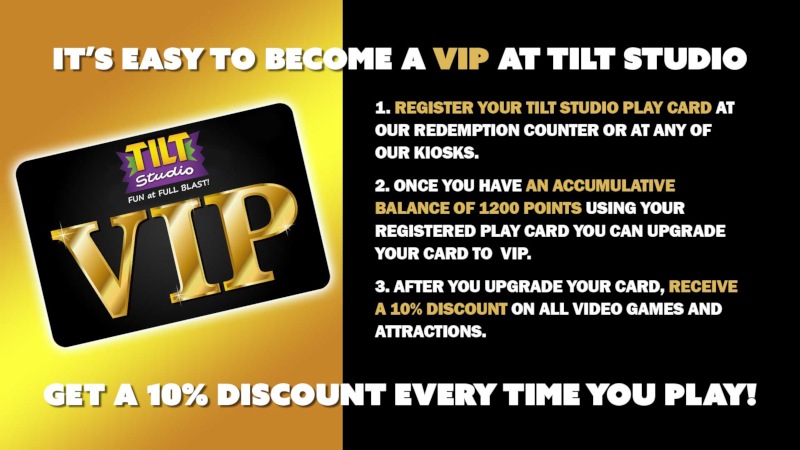 Admission to Tilt Studio is FREE! In order to play games or go on rides, you will need to purchase a Tilt Studio Play Card that can be used at all attractions and video games. The price of each game or attraction will be automatically deducted from your Play Card every time it is swiped. You may put as much or as little money on your Play Card as you would like to spend. You may also reload your Play Card as often as you would like.
When you purchase your Play Card, be sure to register it by giving us your name, address and email address. That way, once you have an accumulative balance of 1200 points on your registered card you can upgrade your card to a VIP card and enjoy 10% off all games and attractions!
Tons of Fun for all ages!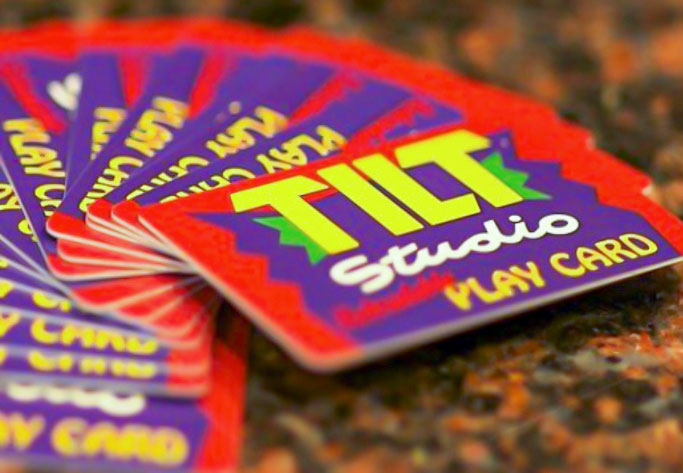 In addition to the fun, Tilt Studio has party rooms for birthdays, group gatherings, special events, and corporate events. Our flexible event spaces accommodate small and large gatherings. Whether you are looking to host a team-building event, youth or adult group gathering, non-profit fundraiser, special event, or birthday party, Tilt Studio can accommodate your event with packages designed to fit your budget.