Fundraisers & School Spirit
Tilt Studio is all about School Spirit and Fundraisers! We're ready to rally your students with an easy fundraiser that is FUN AT FULL BLAST for administrators, parents, and kids.
HOLD A SPIRIT NIGHT ANY WEEKNIGHT AT TILT STUDIO, AND WE'LL DONATE 20% OF YOUR ATTENDEES' GAME PLAY, AND 10% OF FOOD AND BEVERAGE PROCEEDS TO YOUR SCHOOL!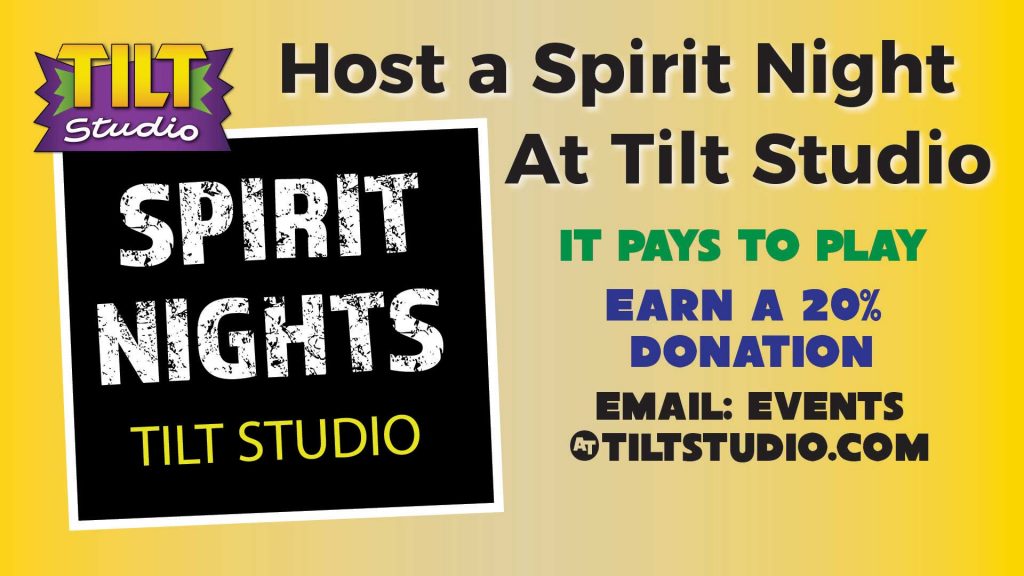 Submit an event inquiry and we'll schedule you a date and time slot. Assign 2 or more representatives from your school to attend the event and welcome students and families.
We'll provide promotional graphics and everything you need to spread the word.
Eat, drink, and play to raise those funds! Make sure attendees show cashiers your school's Spirit Sticker or Spirit Ticket so their purchases count toward your total!
Your donation will be mailed to the school!
After a round of laser tag, cool off with some refreshments at our snack bar. Pizza, pretzels, chicken bites, fries, funnel cake fries and more! Our Coca-Cola Freestyle also makes it easy to get a one-of-a-kind drink sure to keep you hydrated and ready for your next game.
The Tempe, AZ and Rockford, IL locations have a full-service bar and restaurant.
*Tilt Studio locations in Altoona, PA, Florence, SC, and Indianapolis, IN, do not have a snack bar. The Tempe, AZ, location has a full-service bar and restaurant.
Our parent company Nickels and Dimes Incorporated was established in 1972 at Six Flags Mall in Arlington, TX. The success of the early Gold Mine and Tilt arcades have evolved into the Tilt Studio and Tilted 10 facilities. While our size has changed, our primary focus is still for families of all ages to have fun and provide a high quality experience.