Kirkwood Mall | Bismarck, ND
Tilt Studio is a action-packed family fun center located inside the Kirkwood Mall in Bismarck, ND.  Arcade, virtual reality, parties, and so much more.
mobile wallet now available

SUBSCRIBE TO TEXT ALERTS FOR MORE OFFERS AND UPDATES
Activities at Tilt Studio Kirkwood
Challenge everyone to a round of mini bowling or mini golf, or get behind the wheel in our Thundervolt Go-Karts. Grab a taco or two, before playing your favorite video, ticket, or merchandise games. Did we mention we know how to throw a party?
With over 150 arcade and video games we have something for everyone! Our crane games are packed with plush, candy, and tickets ready to be won! For those looking to challenge their friends for bragging rights, get behind the wheel and race, have a basketball shootout, or go head to head in air hockey! 
Prepare yourself for an adventure down below in an underwater fanta-sea; where you will golf through shark-infested waters and putt your way through a coral reef! 
Or maybe you're looking for an out of this world adventure. Our Mori Galactic Golf Course lets you explore outer space and meet our favorite Martian, Mori. 
Both mini golf courses are 18-holes and sure to challenge both kids and adults. 
Route 66 Mini Bowling Lanes
Strike up some fun with this exciting and challenging activity for all ages. The lanes have real hardwood approaches, ball returns and automatic scoring. Smaller-sized balls are lightweight and perfect for smaller hands. So… let the good times roll!
Thundervolt Electric Go-Karts
Put the pedal to the metal in our Thundervolt electric go-karts, where you'll feel the surge of power as your race your friends and family to the finish line.
These go-karts are perfect for kids and adults.
*To drive a go kart you must be at least 7-years-old and 48″ tall. To be a passenger you must be at least 4 years old and 36″ tall. You can only have a passenger if you are at least 18 years old.
Test your skills in our black light, jungle-themed laser tag arena while dodging lasers and tagging your opponents. This popular attraction is action-packed, and puts players right in the heat of the competition!
*A child must be 6 years or older in order to play unaccompanied. A child 5 years of age may play accompanied by an adult. Children 4 years and younger, may not play.*
Tons of Fun for all ages!
Tilt Studio's are action-packed family fun centers, located throughout the nation! Each center is 25,000 to 100,000 square feet of indoor family fun with attractions like black light laser tag, spin and flip zone bumper cars, amusement rides, black light mini golf, laser frenzy, over 150+ arcade and video games, pinball, and virtual reality!
In addition to the fun, Tilt Studio has party rooms for birthdays, group gatherings, special events, and corporate events. Our flexible event spaces accommodate small and large gatherings. Whether you are looking to host a team-building event, youth or adult group gathering, non-profit fundraiser, special event, or birthday party, Tilt Studio can accommodate your event with packages designed to fit your budget.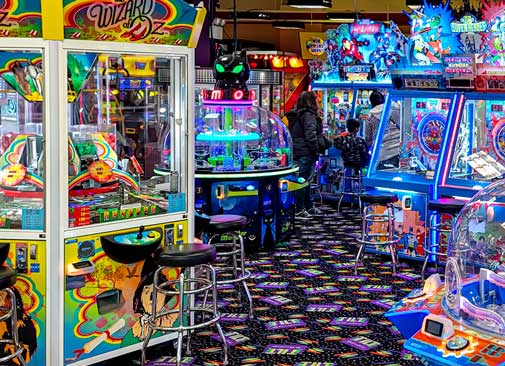 Imagine a job where you get to work with your friends. A job with competitive pay, flexible scheduling, and you get to make people smile. Surround yourself with fun and happiness. Check out all the Tilt Studio locations that are hiring now! 
Kirkwood Mall (237)
641 Kirkwood Mall
Bismarck, ND 58504
(701) 333-7166 | Get Directions
Hours:
Mon-Thurs: 10:00 AM – 8:00 PM
Friday & Saturday: 10:00 AM – 10:00 PM
Sunday: 11:00 AM – 8:00 PM
Admission to Tilt Studio is FREE! In order to play games or go on rides, you will need to purchase a Tilt Studio Play Card that can be used at all attractions and video games. The price of each game or attraction will be automatically deducted from your Play Card every time it is swiped. You may put as much or as little money on your Play Card as you would like to spend. You may also reload your Play Card as often as you would like.
When you purchase your Play Card, be sure to register it by giving us your name, address and email address. That way, once you have an accumulative balance of 1200 points on your registered card you can upgrade your card to a VIP card and enjoy 10% off all games and attractions!