Reload your Play Card Online!

Reload your play card online and enjoy special offers not available anywhere else! 
*At these select locations, you can use a phone to start the game by tapping on the swipe readers. 
Purchase new play cards here. See pick-up instructions below the form and discover why Tilt Studio is always FUN AT FULL BLAST!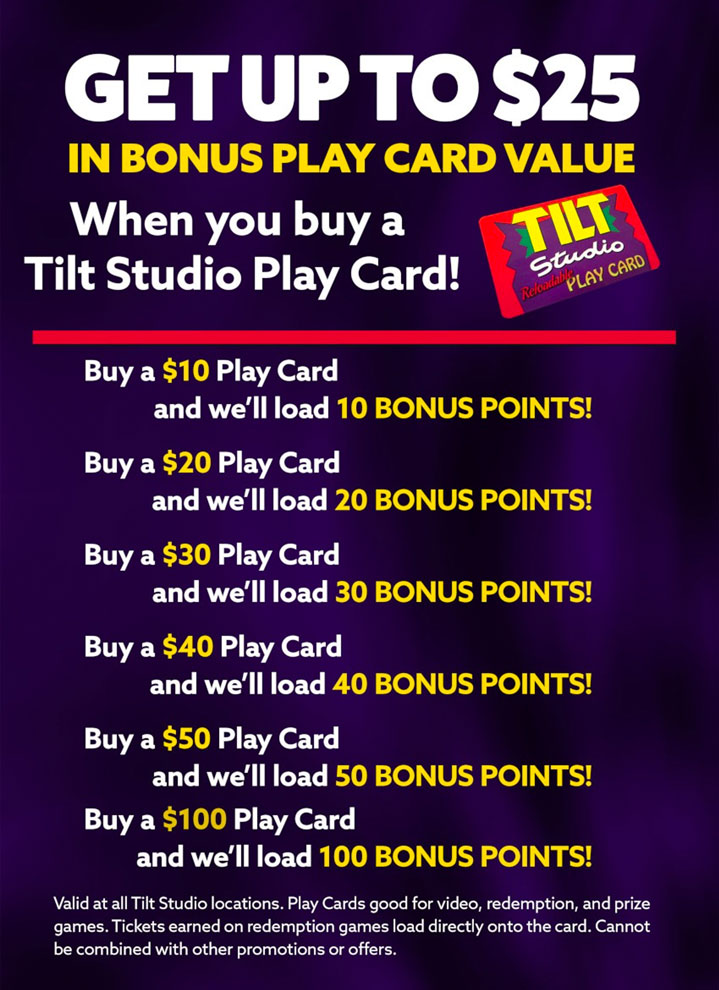 Tilt Studio's are action-packed family fun centers, located throughout the nation! Each center is 25,000 to 100,000 square feet of indoor family fun with attractions like black light laser tag, spin and flip zone bumper cars, amusement rides, black light mini golf, laser frenzy, over 150+ arcade and video games, pinball, and virtual reality!
In addition to the fun, Tilt Studio has party rooms for birthdays, group gatherings, special events, and corporate events. Our flexible event spaces accommodate small and large gatherings. Whether you are looking to host a team-building event, youth or adult group gathering, non-profit fundraiser, special event, or birthday party, Tilt Studio can accommodate your event with packages designed to fit your budget.
After a round of laser tag, cool off with some refreshments at our snack bar. Pizza, pretzels, chicken bites, fries, funnel cake fries and more! Our Coca-Cola Freestyle also makes it easy to get a one-of-a-kind drink sure to keep you hydrated and ready for your next game.
The Tempe, AZ and Rockford, IL locations have a full-service bar and restaurant.
*Tilt Studio locations in Altoona, PA, Florence, SC, and Indianapolis, IN, do not have a snack bar. The Tempe, AZ, location has a full-service bar and restaurant.
Our parent company Nickels and Dimes Incorporated was established in 1972 at Six Flags Mall in Arlington, TX. The success of the early Gold Mine and Tilt arcades have evolved into the Tilt Studio and Tilted 10 facilities. While our size has changed, our primary focus is still for families of all ages to have fun and provide a high quality experience.