Book your Birthday Party/Event at Tilt Studio Ohio Valley!
$279
$299
$249
$399
Pick Your Party
Deluxe Package
Ultimate Party

*MOST POPULAR*

Extreme Teen
Family Celebration
Days/Hours available
FRI & SAT BEFORE 6:30PM & SUN BEFORE 4:30PM
FRI & SAT BEFORE 6:30PM & SUN BEFORE 4:30PM
FRI & SAT EVENINGS
SAT 10-12PM & 5PM-7PM or SUN 5PM-7PM
Dedicated Party Host
# of Participating Guests
UP TO 10 KIDS
UP TO 10 KIDS
UP TO 6 GUESTS
UP TO 20 ADULTS & KIDS
Max # of Additional Guests
10
10
14
10
Ages
 4 YEARS – 11 YEARS
 4 YEARS – 11 YEARS
11 YEARS – 16 YEARS
4 YEARS & UNDER
Length of Party
2 HOURS
2 HOURS
2.5 HOURS
2 HOURS
Cupcake Tree with Decorations
Games
$8 GAME CARD/KID
$12 GAME CARD/KID
6 GAME CARDS ($20 EACH)
(6) $30 PLAYING CARD
Attractions
2
3
2 HOURS UNLIMITED
Pizza
2 LARGE
2 LARGE
3 LARGE
ADDITIONAL CHARGE
Beverages
2 PITCHERS
2 PITCHERS
BOTTOMLESS SODA
ADDITIONAL CHARGE
Electronic Invitations
Party Supplies
Arcade Bands
Goodie Bags
VIP Access
Clean Up? We do all the work! You enjoy the party!
FUN!
PICK ME!
PICK ME!
PICK ME!
PICK ME!
Party/Event offers can not be combined with any other offers, deals or coupon.
If you have questions or would rather talk to someone now, call us at 972-939-4200.
PLEASE CALL 972-939-4200 TO DISCUSS YOUR PARTY WITH US.
Options and Add-Ons

Additional Guests: Depending on party package
Large Cheese Pizza
Additional Pizza Toppings
Pitcher of Soda
Party Goodie Bags
Keychains (if available)
Tilt Studio Lanyards (if available)

Please Note

$75.00 non-refundable deposit required to secure your reservation
Deposit via cash, Visa, MasterCard, Discover Card or American Express
Minimum age and/or height requirements may apply
No outside food or beverage permitted (except birthday cakes)
Party host tips are not included in the price of the party. They are appreciated but not expected.
Pick Your Party!
We have several party packages for different age groups. For children between the ages of 3 and 11, we offer our 2-hour Ultimate Party Package which includes a special gift for the Guest of Honor, Free Online Invitations, cupcakes for the children, $12 Tilt Studio Game Cards per child, your choice of three of our exciting attractions to do as a group, 2 large pizzas, 2 pitchers of pop, goodie bags for each child, and party supplies for the group. The price for this party is $299 for up to 10 children. Additional children may be added for $25 per child.
We also offer our 2-hour Deluxe Party Package which includes everything above, except you get to choose two attractions and each child receives an $8 Tilt Studio Game Card. Goodie bags are not included in this package. This package is $279 for up to 10 children. Additional children may be added for $25 per child.
We also have a package for children 11 year old and above. This package is called our Extreme Teen Party. This party is 2.5 hours long and good for up to 6 children. Each additional child is $35. This party includes cupcakes, 3 large pizzas, bottomless soda, 2 hours of unlimited attractions, $20 Game Cards and VIP Lanyard for each child. This price for this party package is $249.
Another option is our 2-hour Family Celebration Package. This package is perfect for up to 20 adults and 6 children and includes six $30 Game Cards that can be used for games or attractions. This package is $399.
All of our birthday parties have a dedicated and highly-trained Party Host. The Host's responsibility is to ensure that the children are having fun by entertaining them, that the birthday child feels special, and, most importantly, that the children are safe. Electronic invitations are available on our website that make announcing your party simple and easy. And, we take care of all the clean-up, so you can relax and enjoy the party!
Free Online Invitations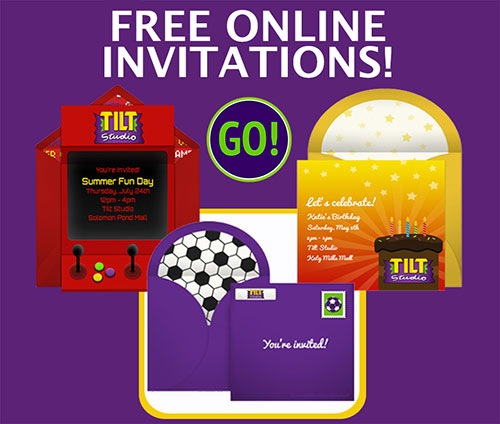 Tilt Studio has partnered with Punchbowl.com to provide you with an easy way to Invite guests to your PARTY!! The best part is, it is totally free, just click on the image.
** Sorry, no walk-in Birthday parties **
** No outside food or drink allowed in our facility **
Guest Testimonials
"Highly recommended Tilt Studio for gamers of all ages! I have visited this location 3 times now and overall I have really enjoyed my experience. I am a hard core arcade gamer and I was impressed with their selection." – S. Carroll
"Great experience!! In the past, I would not let my 2 kids go there, it seemed unsafe, and run down. Now, it seems like it has really cleaned up and is really nice now! All of the staff was so helpful and responsive. My son has expressed great interest in having his bday party there. Laser tag was great, food was great, games were great! Keep up the good work. My mind is totally changed from previous thoughts on this place. We will definitely be back!!" – Katy TX Customer