Attractions at Tilt Studio
Altoona, PA
Black Light Mini-Golf
Laser Tag
Bumper Cars
Mini Bowling Lanes
OutRun SP Deluxe
VIP Program
Admission to Tilt Studio is FREE! In order to play games or go on rides, you will need to purchase a Tilt Studio Game Card that can be used at all attractions and video games. The price of each game or attraction will be automatically deducted from your Game Card every time it is swiped. You may put as much or as little money on your Game Card as you would like to spend. You may also reload your Game Card as often as you would like.
When you purchase your Game Card, be sure to register it by giving us your name, address and email address. That way, once you spend $300 on your registered card, you will automatically become a VIP and receive a 10% discount on all games and attractions, plus you will receive monthly email blasts about our upcoming promotions and special events.
All of our attractions and video games are priced using a Points System. It is $0.25 per point. (i.e.: 4 points = $1.00). Most of our arcade and video games range from $0.50 (2 points) to $2.50 (10 points), depending on the game. Pricing for each of our games is shown on the lighted device where the Play Card gets swiped.
All of our attractions are affordably priced, and range from $2.50 per person to $7.00 per person.
*First VIP Card is free. Additional charge for replacement cards.*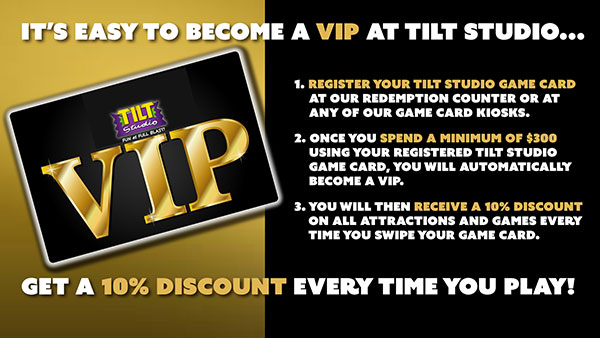 The Snack Bar
A hungry or thirsty gamer can take a break from all the action and enjoy mouth-watering pizza, hot dogs, soft pretzels, soda, frozen drinks, and so much more at our Snack Bar.