Tilt Studio is Voorhees' premier family FUN destination!
Our 20,000 sq. ft. indoor facility has dozens of arcade games, redemption games, a Ballocity ball pit, a soft play climbing attraction, the Twirlin' Taxi Ride, our 9 Hole black light mini-golf course, 4 lanes of rollerball mini bowling, gemstone mining, the DinoVenture, party rooms for birthdays and group events, and much, much more!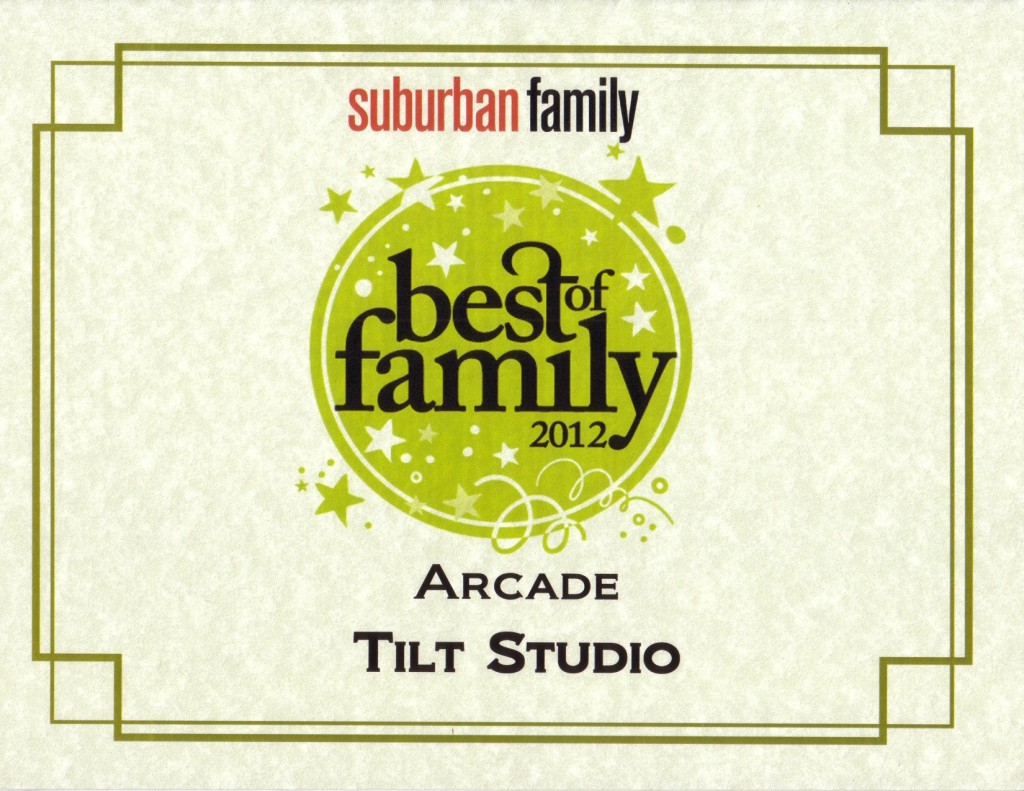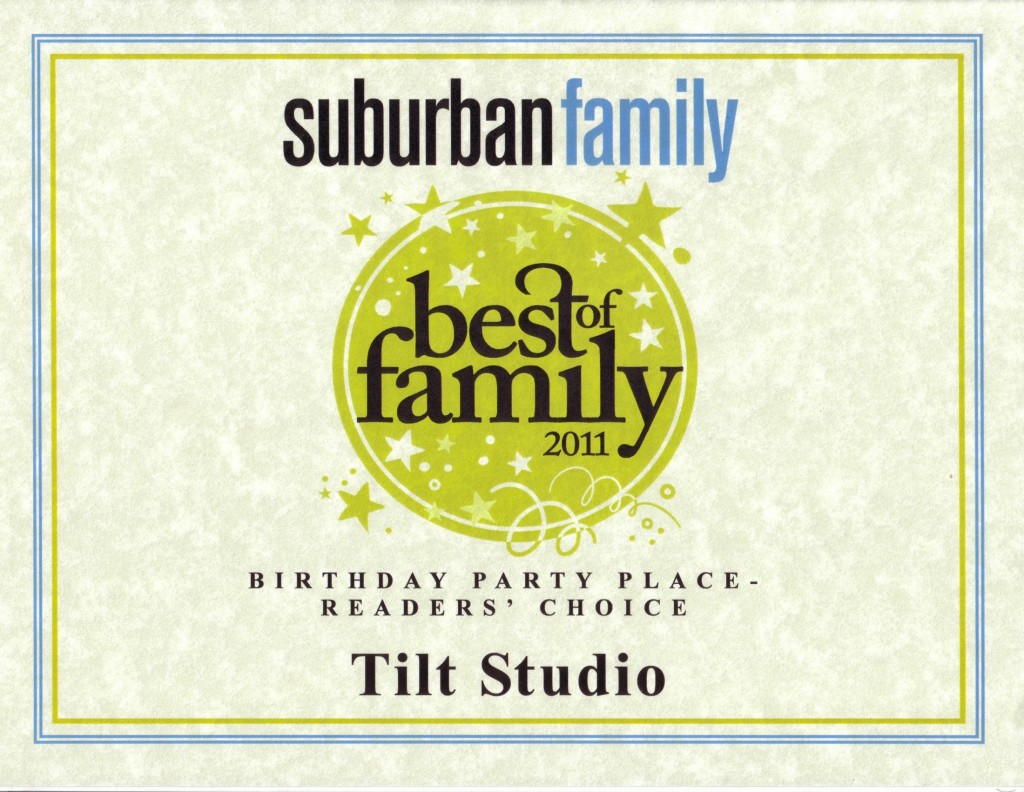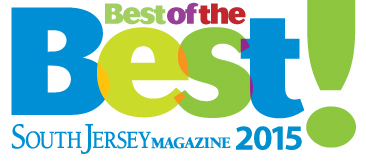 Attractions at Tilt Studio Voorhees
Ballocity Fun Area
Black Light Mini-Golf
Gemstone Mining
DinoVenture (Now Open!)
Twirlin' Taxi Ride
Lazer Frenzy
Rollerball Mini Bowling
City Grill Snack Bar (Open Daily)

Voorhees Location & Hours
Voorhees Town Center Mall
1580 Voorhees Town Center
Voorhees, NJ 08043
Get Directions
Email this Location
Phone: (856) 782-6572 ext. 10
Regular Hours:
Monday – Thursday: 11:00am – 9:00pm
Friday: 11:00am – 10:00pm
Saturday: 10:00am – 10:00pm
Sunday: 11:00am – 7:00pm
Sign up today and be the first to know about our specials!
Daily Specials at TILT Studio Voorhess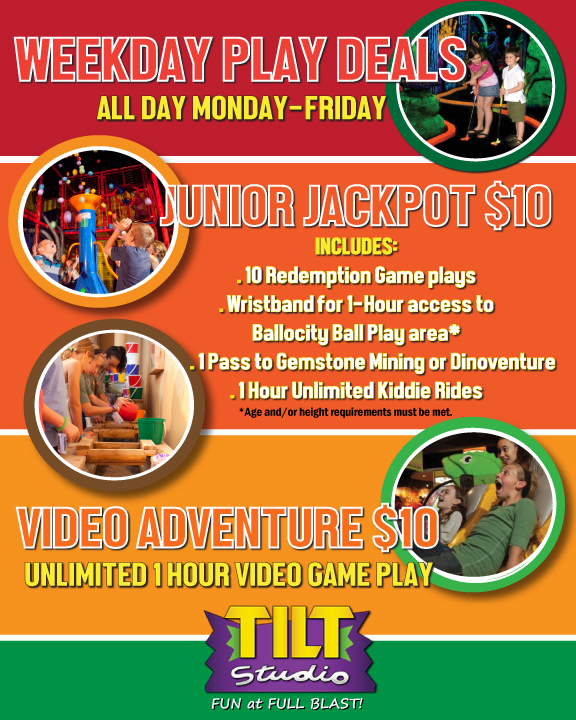 Weekday Play Deals
We offer our guests two money-saving specials Monday through Friday. Our Junior Jackpot Special is just $10 per person and includes 10 Redemption Game plays, a wristband for 1-hour access to Ballocity Ball Play area*, 1 pass to Gemstone Mining or Dinoventure, and 1 hour of Unlimited Kiddie Rides.
Our second special, Video Adventure, gives you 1 hour of unlimited video game play. No matter which one you choose, you'll get more FUN for the money!
*Age and/or height restrictions must be met.

Hot Dogs (cheese & chili available)
Hamburgers (cheese available)… served with chips
Honey-Mustard Chicken Sandwich… served with chips
Chili con Carne with melted cheese
Nachos with Cheddar Cheese (jalapenos & chili available)
Chicken Tenders
Mac 'N Cheese
Super Pretzel soft pretzels
Popcorn
Blue Bunny Ice Cream Bars (Strawberry Shortcake Bar, Orange Dream, Cookies 'N Cream Sandwich & Big Alaska)
Otis Spunkmeyer cookies
ICEE Frozen Drinks (Blue Raspberry & White Cherry)
Fountain Beverages (also available in Pitcher size)
Hot Coffee
Hot Tea
VIP PROGRAM
Admission to Tilt Studio is FREE! In order to play games or go on rides, you will need to purchase a Tilt Studio Game Card that can be used at all attractions and video games. The price of each game or attraction will be automatically deducted from your Game Card every time it is swiped. You may put as much or as little money on your Game Card as you would like to spend. You may also reload your Game Card as often as you would like.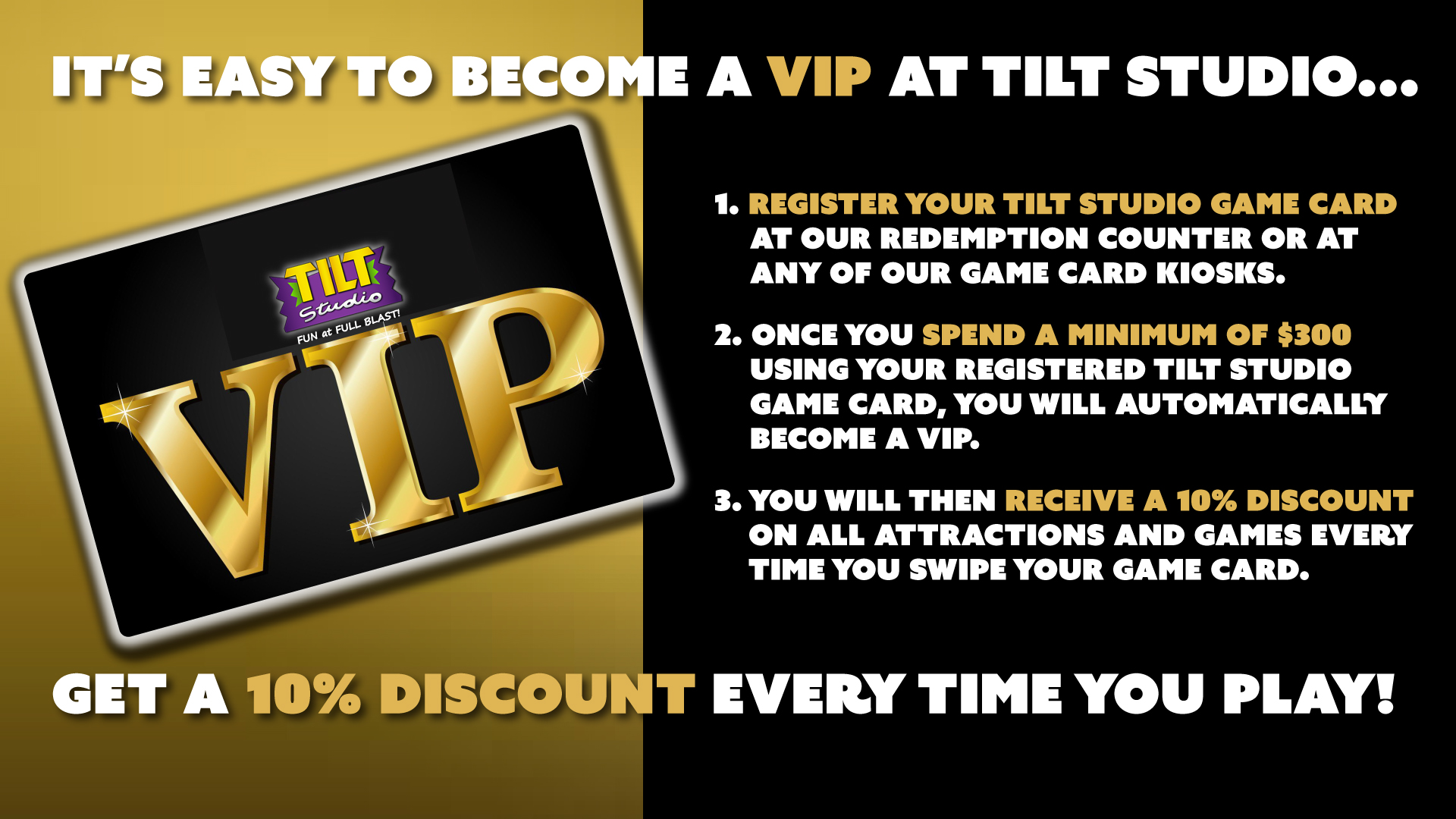 When you purchase your Game Card, be sure to register it by giving us your name, address and email address. That way, once you spend $300 on your registered card, you will automatically become a VIP and receive a 10% discount on all games and attractions, plus you will receive monthly email blasts about our upcoming promotions and special events.
All of our attractions and video games are priced using a Points System. It is $0.25 per point. (i.e.: 4 points = $1.00). Most of our arcade and video games range from $0.50 (2 points) to $2.50 (10 points), depending on the game. Pricing for each of our games is shown on the lighted device where the Play Card gets swiped.
All of our attractions are affordably priced, and range from $2.50 per person to $7.00 per person.