Book your Birthday Party/Event at Tilt Studio Katy!
| | | | | |
| --- | --- | --- | --- | --- |
| | $279 | $299 | $249 | $399 |
| Pick Your Party | Deluxe Package | Ultimate Party | Extreme Teen | Family Celebration |
| Dedicated Party Host | | | | |
| # of Attendees | UP TO 10 KIDS | UP TO 10 KIDS | UP TO 6 GUESTS | UP TO 20 ADULTS & KIDS |
| Ages | | | 11+ | 3 YEARS & UNDER |
| Length of Party | 2 HOURS | 2 HOURS | 3 HOURS (HOURS VARY PER LOCATION) | 2 HOURS |
| Cupcake Tree with Decorations | | | | |
| Games | $8 GAME CARD/KID | $12 GAME CARD/KID | 6 GAME CARDS ($20 EACH) | (6) $30 PLAYING CARD |
| Attractions | 2 | 3 | 2 HOURS UNLIMITED | |
| Pizza | 2 LARGE | 2 LARGE | 3 LARGE | |
| Beverages | 2 PITCHERS | 2 PITCHERS | BOTTOMLESS SODA | |
| Electronic Invitations | | | | |
| Party Supplies | | | | |
| Gift for Birthday Girl/Boy | | | | |
| Goodie Bags | | | | |
| VIP Pass Lanyard | | | | |
| Clean Up? We do all the work! You enjoy the party! | | | | |
| FUN! | | | | |
| | PICK ME! | PICK ME! | PICK ME! | PICK ME! |
Party/Event offers can not be combined with any other offer, deal or coupon.
If you have questions or would rather talk to someone now, call us at 281-644-2340.
Options and Add-Ons

Additional Guests: ($25-$35 depending on party package)
Additional Party Room Time (30 minutes): $25
Large Cheese Pizza: $13
Additional Pizza Toppings: $1 each
Pitcher of Soda: $4.75
Party Goodie Bags: $3
Keychains (if available): $0.75
Tilt Studio Lanyards (if available): $1.00
Questions? Call (281) 644-2340.

Please Note

$75.00 non-refundable deposit required to secure your reservation
Deposit via cash, Visa, MasterCard, Discover Card or American Express
Minimum age and/or height requirements may apply
No outside food or beverage permitted (except birthday cakes)
Party host tips are not included in the price of the party. They are appreciated but not expected.
Pick Your Party!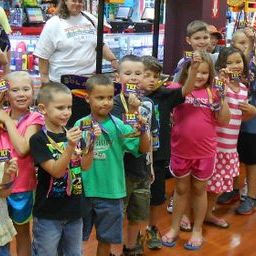 We have several party packages for different age groups. For children between the ages of 3 and 11, we offer our 2-hour Ultimate Party Package which includes a special gift for the Guest of Honor, Free Online Invitations, Cupcakes for the children, $12 Tilt Studio Game Cards per child, your choice of three of our exciting attractions to do as a group, 2 large pizzas, 2 pitchers of soda, goodie bags for each child, and party supplies for the group. The price for this party is $299 for up to 10 children. Additional children may be added for $25 per child.
We also offer our 2-hour Deluxe Party Package which includes everything above, except you get to choose two attractions and each child receives an $8 Tilt Studio Game Card. Goodie bags are not included in this package. This package is $279 for up to 10 children. Additional children may be added for $25 per child.
We also have a package for children 11 year old and above. This package is called our Extreme Teen Party. This party is three hours long and good for up to 6 children. Each additional child is $35. This party includes cupcakes, 3 large pizzas, bottomless soda, 2 hours of unlimited attractions, $20 Game Cards and VIP Lanyard for each child. This price for this party package is $249.
Another option is our 2-hour Family Celebration Package. This package is perfect for up to 20 adults and 6 children and includes six $30 Game Cards that can be used for games or attractions. This package is $399.
All of our birthday parties have a dedicated and highly-trained Party Host. The Host's responsibility is to ensure that the children are having fun by entertaining them, that the birthday child feels special, and, most importantly, that the children are safe. Electronic invitations are available on our website that make announcing your party simple and easy. And, we take care of all the clean-up, so you can relax and enjoy the party!
Free Online Invitations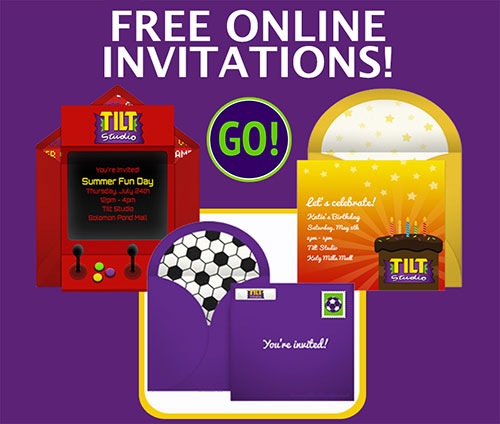 Tilt Studio has partnered with Punchbowl.com to provide you with an easy way to Invite guests to your PARTY!! The best part is, it is totally free, just click on the image.
** Sorry, no walk-in Birthday parties **
** No outside food or drink allowed in our facility **
Guest Testimonials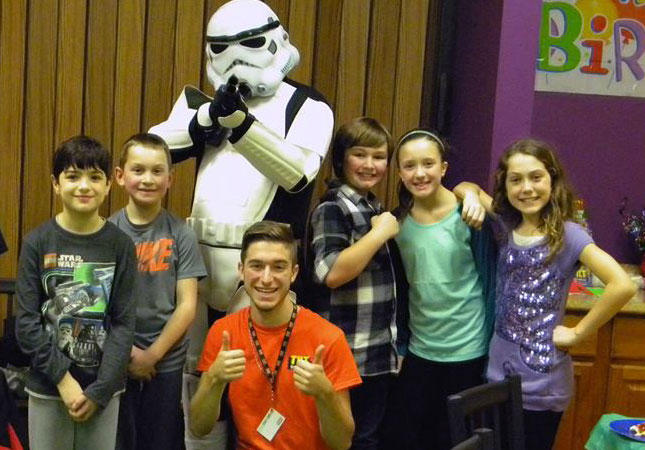 "Great experience!! In the past, I would not let my 2 kids go there, it seemed unsafe, and run down. Now, it seems like it has really cleaned up and is really nice now! All of the staff was so helpful and responsive. My son has expressed great interest in having his bday party there. Laser tag was great, food was great, games were great! Keep up the good work. My mind is totally changed from previous thoughts on this place. We will definitely be back!!" – Katy TX Customer
"Had my daughter's 8th birthday here and I was very happy with my decision to do so!The staff was excellent and took well care of the party goers, Free Online Invitationsmaking sure they were thoroughly entertained for the duration of the party! The girls (and one boy) enjoyed the Tilt-a-Whirl, Putt-Putt and even Laser Tag. I loved that the place was not overly crowded and that there was no waiting to hit up any of the attractions. We kept so busy that by the end of the party everyone still had their game cards to use in the arcade. I got a lot of bang for my buck with Tilt! Many Moms were impressed with how great the party was…especially since most were unaware that Tilt even hosted birthday parties. I would definitely recommend Tilt for your little one's birthday celebration. Let Shiara, Blanca, Vicky and the rest of the staff take care of you!" – Stacy S.
"EXCEEDED OUR EXPECTATIONS! While shopping at Katy Mills Mall one afternoon, our daughter said she would like to have her birthday party at Tilt Studio, so my husband and I took a quick tour to make sure the games and attractions were age appropriate and they were. We were pleasantly surprised at the cleanliness and organization of the facility. During this visit, we also had an opportunity to meet a few of the employees. They were very courteous and answered all of our questions. The next day, we made the birthday party reservations over the phone with Vicky, the general manger. Vicky assured us that her staff would take care of everything. All we needed to do was make a deposit, pick the colors, print the free invitations from their website, and then show up. (She was right!) We decided to purchase the Ultimate Party package for 10 guests and it was a great value. I won't give away any of the "extra" special surprises they provided, but I will say that the children and all of us parents were WOWED several times during the two hour party. The room was beautifully decorated (purple and white – our daughter's choice of colors) with a "Happy Birthday" banner, balloons, table cloths, plates, cups, and napkins. Kanedra, our party host, was outstanding in her ability to communicate with the 5 year olds and with the adults. She swiftly moved the children from one activity and attraction to another, while maintaining order and while keeping their attention. The children were never separated and never bored. Tilt Studio also provided each guest with an adorable party favor bag filled with toys and activity sheets/coloring pages. I highly recommend Tilt Studio Katy Mills for your child's party (Recommended ages: 5 years and older)." – Andrea M.