PRICES – Tilt Studio Point Card – Attractions -Tilt Studio Packages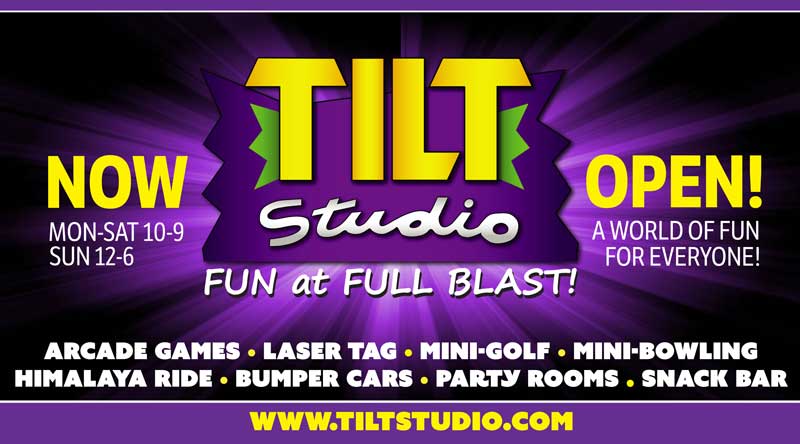 "FUN AT FULL BLAST!"
Tilt Studio, the action-packed indoor family entertainment center is NOW OPEN in the Parkdale Mall in Beaumont, TX.
The new fun center will feature the following attractions: an exciting alien-themed themed Laser Tag arena; a red planet themed 18-hole Black Light Mini-Golf course; four lanes of rollerball Mini-Bowling with auto-scoring system; Bumper Cars; a Himalayan Bobsled ride; a Redemption Center with hundreds of prizes worth winning; a Red Planet Snack Bar with pizza, soft pretzels, nachos, hot dogs, refreshing beverages and ice-cold slushies and more; plus Party Rooms for Birthday Parties, Group Gatherings and Corp…orate Events. Kids of all ages will love the fully-charged fun and games atmosphere!
Plus… guests at Tilt Studio Beaumont will enjoy FUN AT FULL BLAST with a dynamic roster of more than 100 classic and modern interactive video and redemption prize games for all skill levels.
Tilt Studio's Grand Opening includes a Golden Ticket Contest. Fifty lucky winners will each receive three full hours of unlimited video games (excludes merchandise or ticket games) at the fun center any day or time they choose. Plus, all Golden Ticket Winners will automatically be entered to win the Golden Ticket Grand Prize.
The Grand Prize winner will receive three full hours of unlimited video games for themselves and nine of their friends, plus pizza and fountain beverages. The Grand Prize Winner must use their entire prize with friends during a three-hour period arranged in advance with the Store Manager.
As Always – there is no admission fee to have Fun at FULL BLAST !!
WEEKLY SPECIALS
During the week, we offer you four money-saving specials.

On Mondays, Mini-Golf is just $4 per game all day long.
On Tuesdays, you can purchase two hours of unlimited attractions for just $20.
On Wednesdays, play unlimited Laser Tag from 4:00 to 9:00 p.m. for just $15 per person.
And, on Thursdays, all of our video games are half price the entire day.


So, be sure to take advantage of Monday Madness, $20 Buck Tuesdays, Wicked Wednesdays, and Thrifty Thursdays, and you'll get more FUN for the money!
Men and women in the U.S. military, we salute you!
Men and women in the U.S. military, we salute you!

In honor of your dedicated service, Tilt Studio offers a 10% Military Discount off ALL Attractions and a 10% Military Discount off the purchase of ALL Tilt Studio Game Cards. In order to receive your Military Discount you must show your Military I.D. Card each time you visit Tilt Studio. This offer is not valid with any other discount or offer.

Hot Diggity Dog!
Hot Diggity Dog!

It's RUBBLE to the ruff ruff rescue! The ever-pupular English Bulldog will be digging his way from Adventure Bay to Tilt in Parkdale Mall on Saturday, June 10.

RUBBLE will make three extra special appearances on Saturday: 11:00 am to 12:00 pm; 2:00 to 3:00 pm; and 5:00 to 6:00 pm.

Enter to win a Paw Patrol prize in our free drawing after each appearance. Be sure to have your children wear their Paw Patrol shirts, hats, or jackets, so Rubble will know they're a big fan of his TV show.

It's always FREE admission at Tilt Studio and it's also FREE to meet RUBBLE! We'll be taking FREE photos and posting them on our Facebook page, but you are welcome to snap a few pics of your own. It's going to be PAW-SOME!I!
Let the FUN SHINE IN at Tilt Studio all Summer long!
Let the FUN SHINE IN at Tilt Studio all Summer long!

Our popular Summer Special is back beginning June 1 through August 31, Monday through Thursday only.

For only $20, you'll receive four full hours of unlimited video games and attractions! That's one hot deal! This special offer is good for four hours after the first card swipe. Cards will not operate ticket, token, prize, or merchandise games. This offer cannot be combined with any other offers or promotions.

1000 Extra Redemption Tickets for Guest of Honor!
1000 Extra Redemption Tickets for Guest of Honor!

We put the icing on the June Birthday cupcake! Book your birthday party for any date in the month of June and the Birthday Child will receive 1000 Extra Redemption Tickets FREE! Now that's BIG BIRTHDAY FUN at Full Blast!
Why not book your June birthday party today?

Birthday Magic in May!
Birthday Magic in May!

Tilt Studio knows how to make $20 magically disappear! That's right! Book a Birthday Party in the month of May, and get our Ultimate Birthday Party Package for the Deluxe Birthday Party Package price… a $20 SAVINGS.

Birthdays are always a BLAST at Tilt Studio… especially when you get MORE party for LESS! Call today to book your FUNtastic birthday party.

Eat and Play over Memorial Day!
Eat and Play over Memorial Day!

What do you love about the Memorial Day holiday weekend? It's the food and fun with the family, right? Well, bring the entire family to Tilt Studio over the Memorial Day weekend and you can take advantage of our super EAT 'N PLAY SPECIAL.

Our double delicious Family 4-Pack Combo includes: one Large Cheese Pizza, one Pitcher of Soda, and four $5 Tilt Studio Game Cards…. all for only $29.99! Now that's one offer we can all stand behind and salute.

This special EAT 'N PLAY offer is only available Friday, May 26 through Monday, May 29, and cannot be combined with any other coupon or promotion.

Moms Get Special Treatment at Tilt Studio!
Moms Get Special Treatment at Tilt Studio!

The special lady at the head of the family deserves a special day of family fun at Tilt Studio on Mother's Day! Bring Mom to Tilt on Sunday, May 14 for some food, fun and 'freshments.

Plus… for each game of Mini-Bowling you purchase, Mom bowls one game FREE!

But, that's not all! For each game of Mini-Golf you purchase, Mom gets one game of mini-golf FREE as well! Now that's what FUN at FULL BLAST is all about!

Go ahead… Make Dad's Day!
Go ahead… Make Dad's Day!

Dad will be delighted when you take him to Tilt Studio to celebrate Father's Day. With so many games and awesome attractions, he'll feel like a kid again. Especially when you can buy one attraction and get one attraction (of equal or lesser value) FREE for Dad. This special offer is good Saturday, June 17 and Sunday, June 18 only, and cannot be combined with any other offer, discount or coupon.
VIP Program
Admission to Tilt Studio is FREE! In order to play games or go on rides, you will need to purchase a Tilt Studio Game Card that can be used at all attractions and video games. The price of each game or attraction will be automatically deducted from your Game Card every time it is swiped. You may put as much or as little money on your Game Card as you would like to spend. You may also reload your Game Card as often as you would like.
When you purchase your Game Card, be sure to register it by giving us your name, address and email address. That way, once you spend $300 on your registered card, you will automatically become a VIP and receive a 10% discount on all games and attractions, plus you will receive monthly email blasts about our upcoming promotions and special events.
All of our attractions and video games are priced using a Points System. It is $0.25 per point. (i.e.: 4 points = $1.00). Most of our arcade and video games range from $0.50 (2 points) to $2.50 (10 points), depending on the game. Pricing for each of our games is shown on the lighted device where the Play Card gets swiped.
All of our attractions are affordably priced, and range from $2.50 per person to $7.00 per person.