Tilt Studio is your one-stop family FUN spot!

You can play a round in our 18-hole black light jungle safari mini golf or brave the wilds in our two story jungle laser tag arena, take a ride on the ALL NEW Bandit Express Ride or take on the mini bowling lanes. We also have multiple party rooms perfect for birthday parties and group events. With our full-service snack bar and the wide variety of redemption games and video games, the whole family is sure to have a great time!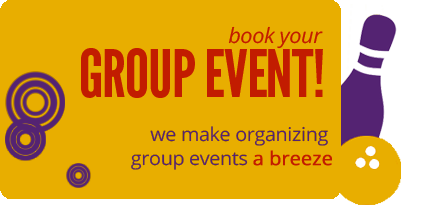 Attractions at Tilt Studio Joplin
NEW!! Lazer Frenzy
Black Light Mini-Golf
Laser Tag
Bandit Express Ride
Mini Bowling Lanes

Joplin Location & Hours
Northpark Mall
101 North Rangeline Road
Joplin, MO 64801
Get Directions
Email this Location
Phone:
(417) 553-7902
Regular Hours:
Monday – Saturday: 10:00am – 9:00pm
Sunday: 11:00am – 6:00pm
Sign up today and be the first to know about our specials!
Daily Specials at TILT Studio Joplin
During the week we offer you four money-saving specials. On Mondays, Mini-Golf is just $4 per game all day long. On Tuesdays, you can get unlimited video game play all day long for just $10. On Wednesdays, play unlimited Laser Tag from 4:00 to 9:00 p.m. for just $15 per person. And, on Thursdays, all of our video games are half price the entire day. So, be sure to take advantage of Monday Madness, $10 Tuesdays, Wicked Wednesdays, and Thrifty Thursdays, and you'll get more FUN for the money!


Deluxe Cheese Pizza (7″ or 14″)
Pepperoni Pizza (7″ or 14″)
Sausage Pizza (7″ or 14″)
Nachos (chili available)
Soft Pretzel (cheese available)
Chicken Bites
Jalapeno Cheese Poppers
Nathan's Hot Dog
Bosco Cheese Sticks
Bosco Apple Sticks
Popcorn
NOS Energy Drink
Fountain Beverages
Tea
Bottled Water
Tummy Yummy
VIP PROGRAM
Admission to Tilt Studio is FREE! In order to play games or go on rides, you will need to purchase a Tilt Studio Game Card that can be used at all attractions and video games. The price of each game or attraction will be automatically deducted from your Game Card every time it is swiped. You may put as much or as little money on your Game Card as you would like to spend. You may also reload your Game Card as often as you would like.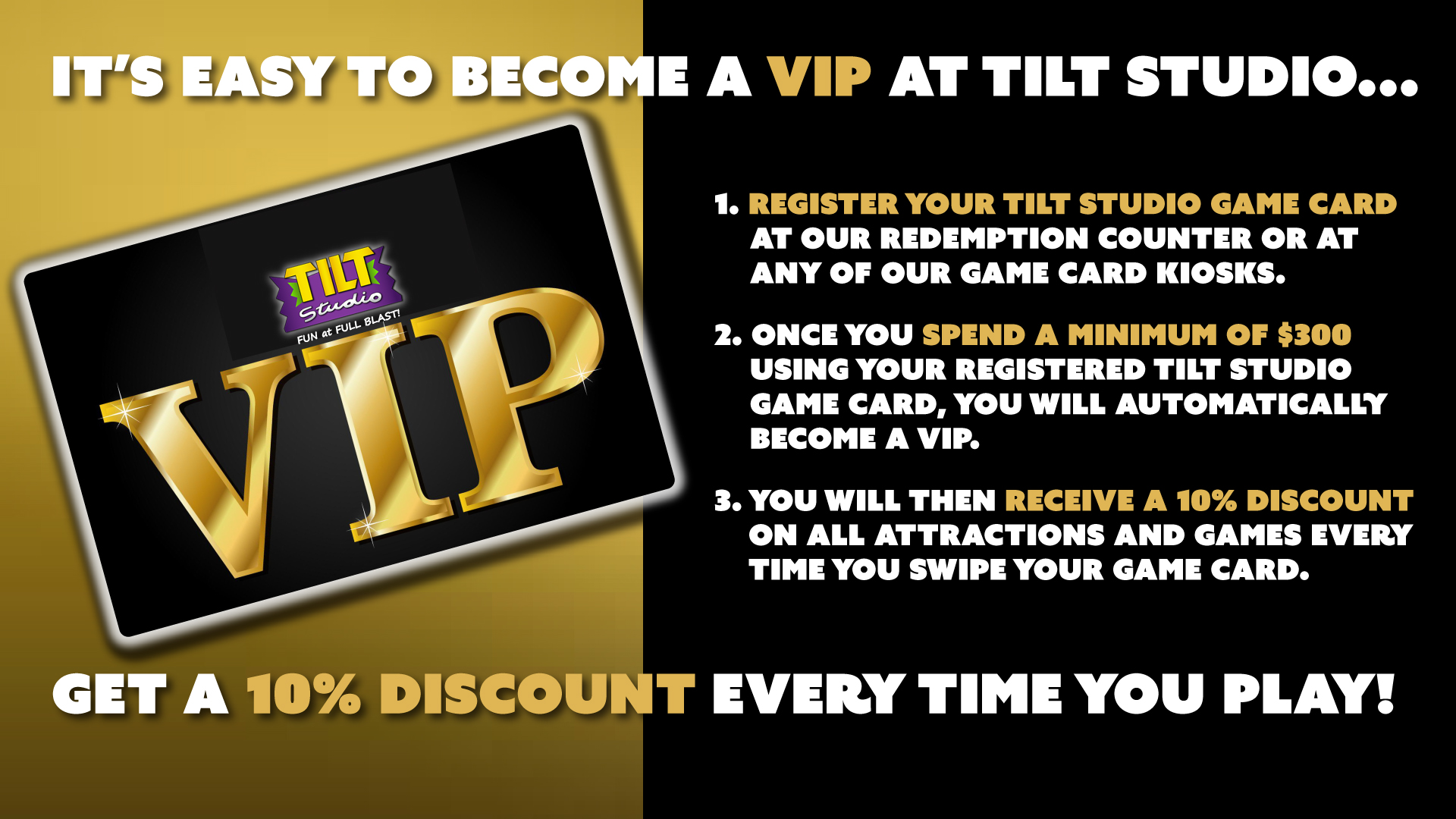 When you purchase your Game Card, be sure to register it by giving us your name, address and email address. That way, once you spend $300 on your registered card, you will automatically become a VIP and receive a 10% discount on all games and attractions, plus you will receive monthly email blasts about our upcoming promotions and special events.
All of our attractions and video games are priced using a Points System. It is $0.25 per point. (i.e.: 4 points = $1.00). Most of our arcade and video games range from $0.50 (2 points) to $2.50 (10 points), depending on the game. Pricing for each of our games is shown on the lighted device where the Play Card gets swiped.
All of our attractions are affordably priced, and range from $2.50 per person to $7.00 per person.